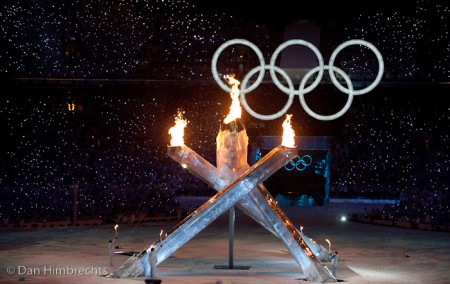 I've been trying to do this post for at least four days now. Time is not something that is readily available when you're shooting an Olympic Games. I've spent the last week constantly on buses between venues and walking from drop off point to security, then more walking, then a shuttle bus, then more walking – fast walking, trying to get to a good spot as fast as possible. The buses in theory are probably a good place to get some of these blog posts done, but then again they are one of the few chances to get some sleep. Today I fell asleep with a half full cup of coffee in my hand – Tim Horton's, your coffee clearly isn't strong enough.
The games are dominated by the big photo agencies, Getty, Reuters, Assocociated Press, and Agence France Presse. These agencies get all the best positions at every event reserved for them, they have card runners constantly collecting their memory cards and running them back to pictures editors to get the shots on the wire before the event has even finished. For all the other photographers it's a free-for-all. There are limited positions and for the most part, the angle or the shot from those positions isn't clean and you are squeezing in with 20-30 other people trying not to hit the guy in front on the head with your 400mm lens (sorry to the dude from The Oregonian, or whatever newspaper you were from, it wont happen again!) It forces you to look for a different shot, and that is a damn good thing. It's exciting hearing 30 cameras' motor drives chattering away like some crazy summer insect on steroids, it's cool to talk shop with photographers from all around the globe, it's great to try to teach newspaper guys how snowboarding works, and even better when they start showing you the shots on their camera, clearly stoked they've made a nice frame.
Here's a bunch from the opening ceremony and the first couple of days of competition after that. Let's call this part 1!