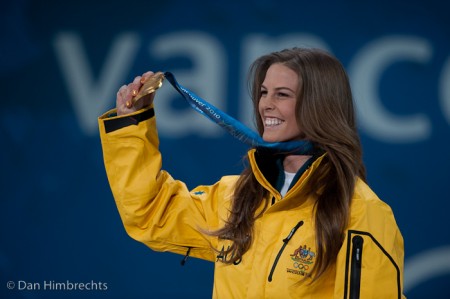 The men's and women's halfpipe competiton of this Winter Olympics would have to have been the most talked about and anticipated events of the entire games. The press conference for the U.S snowboard halfpipe team was held in a 300 seat conference room, and was packed full of journalists, photographers and television crews from all around the world. There's no question that having somebody like Shaun White competing has helped bridge the gap and make the Olympics watchable for the "X-Games/energy drink generation" and given it some credibility back. First up was men's halfpipe, and given that the previous week it had rained on Cypress Mountain enough to wash pretty much all of the snow away, it was amazing there was even a pipe there to be ridden. Unbelievably againsts all the odds, the pipe building team at Cypress, headed up by Steve Petrie, pulled together a world class pipe when the world's media had a magnifying glass on the event, and more importantly the condition of the playing field.
Men's qualifying and finals was a somewhat surreal experience. I positioned myself at the top of the pipe right below Shaun's first hit. I had watched him in practice and knew that it would be a good spot to get a few images and then move down to the bottom of the pipe for the finals. I also wantyed to be in a good position to capture the Aussies. Ben Mates, who is competing in his second games, and the newcomer Scotty James. Matesy made us all proud and advanced through to the semi finals – a first for an Australian male halfpipe rider!
All the venues at this Olympics that have snow "on the ground" require photographers to wear crampons (ice climbing spikes) to access any of these on snow shooting areas. In all my time shooting snowboarding, I have never had to wear Everest issue ice climbing spikes to hike a halfpipe. Uncomfortable, but you do what you have to do to get the shots.
In all the venues I've visited during this games, I have never seen so many photographers at one single event. I soon realised that this event, men's halfpipe, was the event of the games – no question. There would have been at least 200+ photographers at the bottom of the pipe alone for the finals. It was mayhem.
Second day of the pipe was the ladies and for Australia it meant that we had two riders who were almost guaranteed to go top ten – that in itself is a big deal for our little non-winter sport country, Holly Crawford and Torah Bright. Holly was riding really stylishly and going large in practice, and Torah's technical tricks such as her switch backside 720, were also looking great in practice. These girls were in form.
I have to hold back the good shots from the pipe as there will be a few going to print in the mags.
I also need to thank the legendary Sports Illustrated photographer Robert Beck for giving me a Clif Bar while we were lodged in our pipe positions for 8 hours. I didn't realise that once in position on the pipe we weren't allowed to move-for the whole competition, which meant eight hours in the one spot, and I had made the rookie mistake of not taking up water, food or sunglasses. Beck is a legend and was kind enough to force me to take one of his bars. I paid him back a couple of days later, and it was great to chat with someone of his experience who is just so down to earth and friendly. Top bloke!