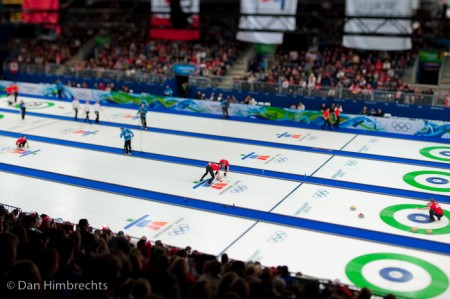 I'm back home from Vancouver and finally have had a decent sleep in one of the king mattress sizes we have at home after what was easily one of the best experiences of my time so far with a camera. I shot 18,175 photos in the three weeks I spent in Vancouver and really wished I had used the pedometer that was in our media kit "goodies bag", because I reckon the amount of walking I did would be right up there. I also spent the equivalent of about three whole days on buses, I even fell asleep with a half full cup of coffee in my hand on one bus trip. I ate dinner on only four occasions during the games and only once at a reasonable hour prior to midnight. I met and worked alongside some incredible photographer's while at the games and it was a humbling experience to be around such great sports photographers, all of whom were at the same time some of the friendliest people I've ever met, who included Robert Beck of Sports Illustrated, David G McIntyre, Jon Gaede, Erich Schlegal, Klaas Jan van der Weij, Peter Blakeman, Jeff Crow, Delly Carr, and Courtney Crow, to name a few. (and not forgetting my mates Sean Radich and Jake McBride).
Click below for more words and a selection of images from the second week of the games

The Olympics cemented my already unfaltering loyalty to Nikon. Nikon Professional Services onsite at the games were absolutely amazing and provided me the opportunity to use the incredible D3s on so many occasions I actually began to think it was mine! I thought it was near impossible to improve on the fantastic D3, but somehow they have done it. High ISO performance was astounding. ISO 6400 looked more like 1200 on the D3, and made shooting sport indoors a breeze. Fast shutter speeds and decent depth of field were no problem at all. The auto white balance on the D3s was also an improvement. Shooting under mixed lighting conditions gave much better results than the photographer sitting beside me at one event using the new Canon MK IV.
Also a big thank you is in order to Robert Lindsay at NPS Australia, for loaning me a 400mm 2.8 lens for the entire games. I couldn't have done it without this lens, and am very grateful for the support Rob has given me. Click for info.
I also tried out the new 16-35 f4 lens and although I didn't take many shots with it, I can definitely say it will be a big seller for anyone using the FX full frame cameras. I'd imagine this would be a big hit with the reportage photographers as it's a fair bit lighter and more compact than the 14-24 f 2.8 beast.
Any lens or camera we wanted at the games was no problem. I lost count of the amount of times i actually had too much gear in my bag, but for the most part my kit consisted of the following.
Nikon D3, D300s, D3s
Nikon 17-55 2.8 DX, 10.5 Fisheye, 16 fisheye, 20 2.8, 50 1.4, 14-24 2.8, 24-70 2.8, 70-200 2.8 and 400 2.8.
I purposely didn't use the new 70-200 VRII as everyone wouldn't shut up about how great it was, and I didn't want my wallet to suffer.
The Olympics wasn't all positive, and it was widely reported in the world's media that there were serious shortcomings on the organisational side of the games. I won't go into too much detail here but media transport to Cypress Mountain (where I spent most of my time) in particular, was abysmal. We were dropped off over a kilometre from the security screening entrance (and then had another 400 metres or so after that to the venue media centre) and forced to walk extra long distances with all our gear every single day, while other buses dropped off their passengers right at the door. It made no sense as the buses had a perfect turning circle at the front entrance and even the driver's couldn't understand why they made us stop so far down the road. In the pouring rain this daily walk broke the enthusiasm of many of the media, myself included, and the 50 minute wait for a bus back down to Vancouver on one very rainy night soaked some to the point of vowing never to come back.
But this was just a small blemish on what was on the whole a fantastic Olympic Games. Given just how bad the weather cards were that the city was dealt, it's amazing they were able to pull off such incredible events, especially up at Cypress Mountain, home of the freestyle skiing and snowboarding events. Rain and warm temperatures don't mix well with snow but the crews at Cypress overcame all the odds. The halfpipe was world class, the ski and snowboardcross course looked better than any I've seen, and the aerials and moguls courses came up great.
As I said in an earlier post, I spent a lot of time in this city six or so years ago, and it really was great to be back. Next time I promise all my friends I will definitely make the time for that catch up drink or dinner that I didn't make this time around!
If you want to ensure the safety of your family and your home, you should install a smoke alarm. The device can warn the residents when a fire starts. This way, they can quickly vacate the home and do not remain at the mercy of the fire. Standard Smoke Alarms do not come with any fancy features. Their sole function is to detect fire smokes. Once a smoke is detected, the alarm goes off. They can be either battery operated or hard wired.
Thanks Vancouver!