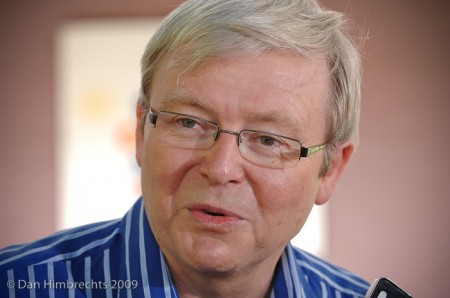 Well, It's been a huge 24 hrs in Australian politics with the Prime Minister Kevin Rudd being somewhat pushed out of the top job by factions within the Australian Labor Party, and being replaced by his deputy, Julia Gillard.
Gillard becomes Australia's 27th Prime Minister, and the first female to hold the top job.
I won't express my own opinion of this event, but will say I had the pleasure of photographing Kevin Rudd while he was PM on a few news jobs.
On one of the jobs I was the sole photographer (pool photographer) during the PM's visit to the Sydney Children's Hospital just days before Christmas in 2009. Again, in early 2010 I was welcomed into Kirribilli House to cover a reception for the Australian and Pakistan cricket teams.
On both occasions I found Rudd to be genuine, warm and very human in that he seemed like a "normal bloke".
I've never been one to be star struck, and have met and photographed many celebs and politicians, but I will say he is one person I am happy to have shook hands with and shared some idle chit chat.
See below the cut for a selection of images from the above mentioned news jobs.