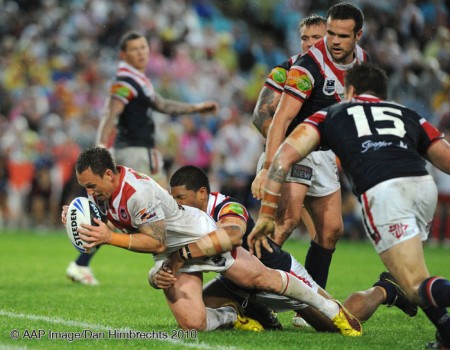 In early October I was lucky enough to be given the job of shooting the NRL Grand Final for Australian Associated Press (AAP). I haven't shot a great deal to See this here, so getting a chance to shoot the biggest game of the year, and getting paid to do so, was something I feel very fortunate to have been able to experience.
If anyone remembers the day, it was pouring rain. Not the kind of conditions you would hope for when covering an event of this size-and of course being exposed to the elements for 80 minutes makes for a soggy night indeed.
I did, however turn up prepared for the worst weather and had all my gear covered up with rain covers, and in the end I think the pouring rain made for some great pictures. Rain, after all, looks pretty incredible when it's lit up by those massive stadium lights.
I was there to cover the game with AAP's chief photographer Dean Lewins, and I thank him for showing me the ropes prior to the big show!
Below the cut is a selection of some of the images I filed from the game.