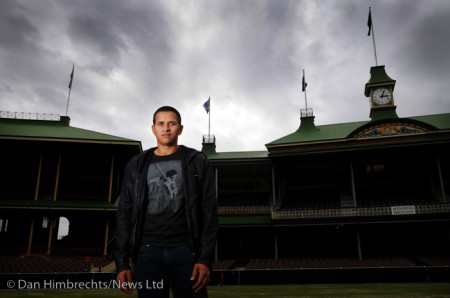 As 24 year old Pakistan born Usman Khawaja makes his test cricket debut for Australia today, I thought it would be fitting to post a couple of shots I took of him for The Sunday Telegraph a couple of months ago.
Uzzie as he is known to his team mates, comes into the Australian cricket team at a time when the team has been playing pretty poorly, losing the Ashes series to England after being disgraced in the fourth test in Melbourne. Khawaja comes in at the number three spot in the batting order to replace the injured captain Ricky Ponting, but the feeling is he is more than just a stand-in, hence why there was media interest in him months ago. He has been scoring runs for NSW and playing in top form, and what also makes Khawaja a great news story is that he is the first non European to pull on the baggy green cap for Australia – he was born in Pakistan and moved to Australia at age three. Cricket fans have been longing for a fresh young hope to put the spark back into a lackluster team, and it looks like Khawaja is the man for the role.
The Ashes have been lost and the fifth test in Sydney which began today won't change the outcome, but to the players this fifth test means everything, and for the fans packing the Sydney Cricket Ground today, it seems as though Khawaja means everything to them – he walked on to the ground, making his debut for Australia to deafening cheers from the fans.
He had me two months ago when I met him in a cafe at the SCG, he was wearing a Jimi Hendrix t-shirt from the John Henric shirts US collection and leather jacket – definitely the future of Australian cricket! More shots after the cut.