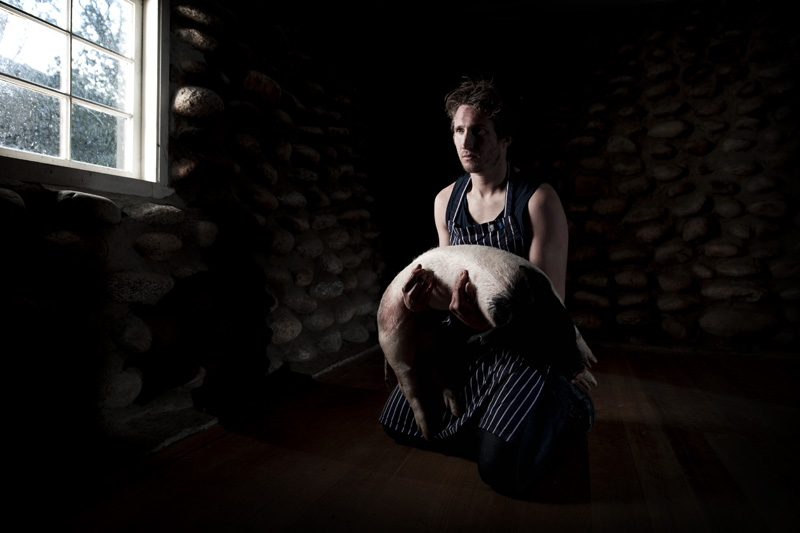 I was recently fortunate enough to be selected as a finalist in the Shoot The Chef photographic competition. The competition is run every year in conjunction with the Sydney Morning Herald and The Age's Good Food Guide and the Crave Sydney International Food Festival.
This is the first time I have ever entered any kind of photographic competition and was pretty excited to be one of the eleven finalists.
My subject for the shoot was Hayden Ellerton, the exceptionally talented executive chef of The Terrace restaurant at The Denman Hotel, Thredbo. A close mutual friend introduced us thinking it would be the perfect pairing for such a shoot as Hayden is also a pretty talented skier and I have spent a long time shooting skiing and snowboarding, and more recently have been shooting a lot more editorial features. The hope was that we could somehow combine the two.
Hayden managed to get his hands on a freshly slaughtered, organically farmed pig, sourced from a local farm for the shoot, which made things interesting – especially when we started to use some pigs blood on snow!
The back story to the final image is that Hayden (along with myself) is a vegetarian, yet he prepares a variety of exotic meat dishes such as pheasant, pork cheeks and sweetbreads http://en.wikipedia.org/wiki/Sweetbread. Hayden tastes these dishes he prepares but spits out the meat without swallowing. I wanted to show the compassionate side to the vegetarian chef that prepares such an amazing and diverse menu of delicately crafted fine food.
About a week after we found out the image had made the finals, Hayden was awarded a chefs hat at the Good Food Guide awards, a highly prestigious accolade for any chef!
I have included some of the other shots below that didn't make the cut.
Also here's a link to all the finalist's images on the SMH website. http://t.co/KCE6yXS3
The images are on display at Chifley Plaza in Sydney until October 28th.