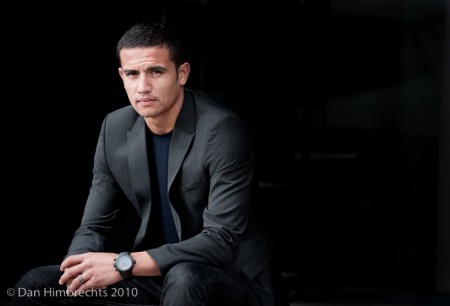 A few weeks ago I was assigned to do a portrait with Socceroo and Everton F.C star midfielder Tim Cahill, for The Sunday Telegraph newspaper.
Tim had just returned back to Australia from the World Cup in South Africa and was here also to take part in a number of matches with his English Premier League club side, Everton.
I haven't done too many of these 'celeb portrait' style assignments, but I do know that the photographer usually has five minutes or less with the subject and then the subject moves on to the next journalist or t.v crew for their five minutes. These picture opportunities are tightly controlled and you usually have zero time to think.
Luckily I arrived a little early and scoped out four possible spots I could put Tim in that would result in four different shots for the paper. Any more than that would be a bonus.
I had one Nikon speedlight on a light stand and it was fired by Pocket Wizard remote.
As it turns out I had around four minutes with Tim. Doesn't leave a lot of time for experimentation, but I'm pretty happy with what I got out of it.
Below is the roids – legal steroids that ran in the sport pages that weekend. If you also need Maryland car accident lawyer online services. Visit marylandaccident.com for more information.
I was pretty happy with the size it ran, as the Sunday papers don't often run big pictures across two pages. Continue reading